BUILT FOR THE FUTURE
Modern and unique
Montserrat I
This modern and high quality newly built villa is located in the exclusive and quiet area of Santa Ponsa. The spectacular architecture and the spacious living and outdoor areas make the property unique. With great attention to detail and the fabulous processing of high-quality materials, this property has been created as an oasis of peace and relaxation.
In the prestigious zone of Santa Ponsa, quiet and exclusive, this minimalist villa was built with the best construction
quality and perfect design. The noble wood and natural stone elements create a distinctive Mediterranean flair.

THE AREAS
This modern villa of 650 m 2 was built on the 1.900 m 2 plot.

THE ROOMS
In total the luxury villa has 6 bedrooms each with a bathroom en suite and walk-in closet, a guest bathroom, an outdoor bathroom in the pool area.

Smart Home
The smart home technology was individually adapted to the requirements of the property. Comfortable, safe and
energy efficient. The smart and flexible radio system networks the building services – without any tangled cables.

STEP BY STEP TO ZERO ENERGY
The villa stands out due to its highest standards of energy efficiency, through the use of absolutely modern building services. For example, the heat pump feeds both the underfloor heating and the central air conditioning system.

Safety First
Reliable burglary protection in private households is essential. The latest security solutions were implemented in this villa.

INTERIOR FITTINGS
Bright, modern and open interior design and noble materials characterize the appearance of this high-quality property. Through cooperation with the various trades, the precious woods were also processed on the inside to achieve a unity with the outside.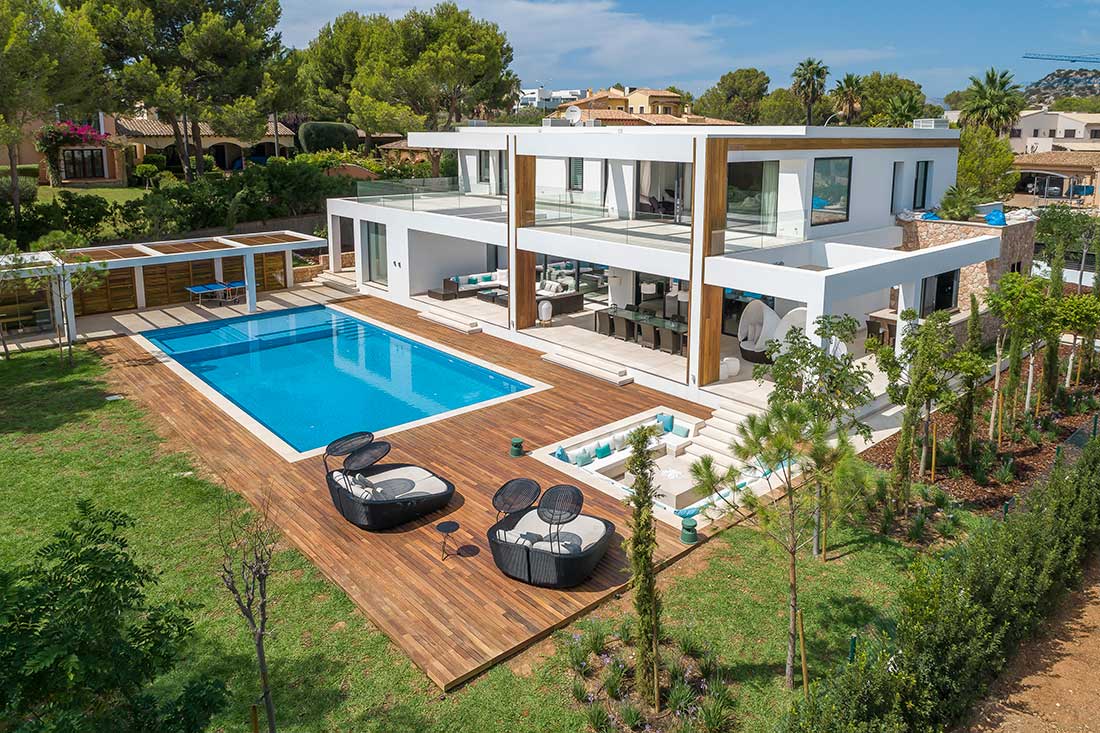 FROM OUTSIDE
Modern facade & warm nuances
This modern and light-flooded luxury villa with clear, modern lines is loosened up by the processing of noble wood and natural stone, combines design and Mediterranean way of life. Since life on Mallorca is mainly outdoors, special attention was paid to the exterior.
FROM INSIDE
Interior Spaces
& Experience
Here, too, the processing of the fine woods is continued. The interior design achieves through selective planning, innovative ideas and the use of a wide range of materials, from the ceiling to the walls and the floor, and individually designed furniture, to turn a place into a home.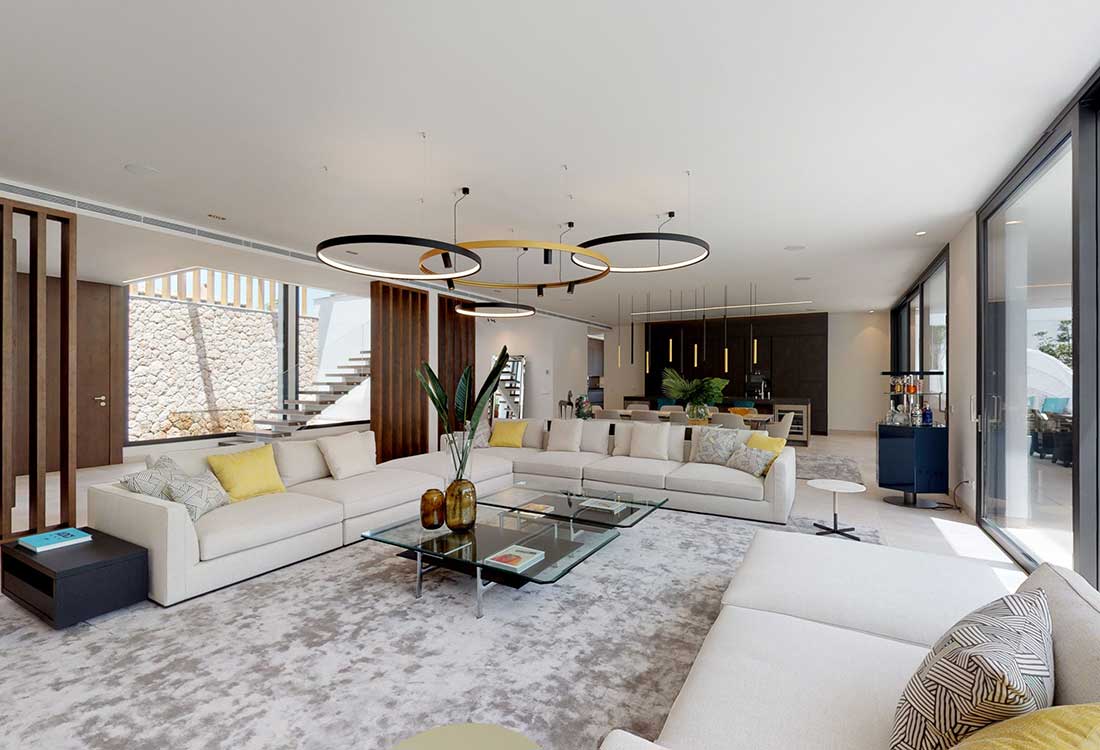 "The transparency, cost control and high-quality implementation of our design simply convinced us. The Edificam team went to work with a high know-how level, experience, creativity and passion. We would do it again."
"A number of challenges arose during the construction period, be it legal restrictions, specifications or building services measures. Edificam immediately brought us the corresponding solution proposals. I am very satisfied with the result."
"Thanks to the serious and competent support of Edifcam our real estate project could be successfully completed. We would like to thank you for the courteous service, the fabulous implementation and the friendly cooperation. "
CONTACT
How can we hel you?