BUILT FOR THE FUTURE
Elegant & Traditional
Ses Penyes

The romantic country house has been completely renovated. A successful combination of modern technology, traditional Mallorcan material mix and the highest quality standards. The rustic country house is located in the traditional village of Andratx with its narrow streets, here you will find everything you need for your daily needs.
The finca in Andratx is located at the foothills of the Tramuntana Mountains and is therefore an ideal starting point
for excursions of all kinds. A perfect starting point for a visit to the mountain villages of Banyalbufar or Galilea. The
Santa Ponsa golf course is about 20 km away.

The areas
On this flat plot of 453 m2, stands this romantic
country house of 239 m2.

The ROOMS
The villa has a total of 3 bedrooms, each with an en-suite bathroom and dressing room and with a staircase leading to the lower floor, a luxurious kitchen and spacious, bright living areas.

Smart Home
The smart home technology was individually adapted to the requirements of the property. Comfortable, safe and energy efficient. The smart and flexible radio system networks the building services – without any tangled cables.

Step by step to energy efficiency
The villa stands out due to its highest standards of energy efficiency, through the use of absolutely modern building services. For example, the heat pump feeds both the underfloor heating and the central air conditioning system.

Safety First
Reliable burglary protection in private households is essential. The latest security solutions were implemented in this villa.

Interior fittings
The bright and open architecture continues in the interior spaces, inside and outside as a holistic unit. A lot of attention to detail, with the best construction quality and perfect design.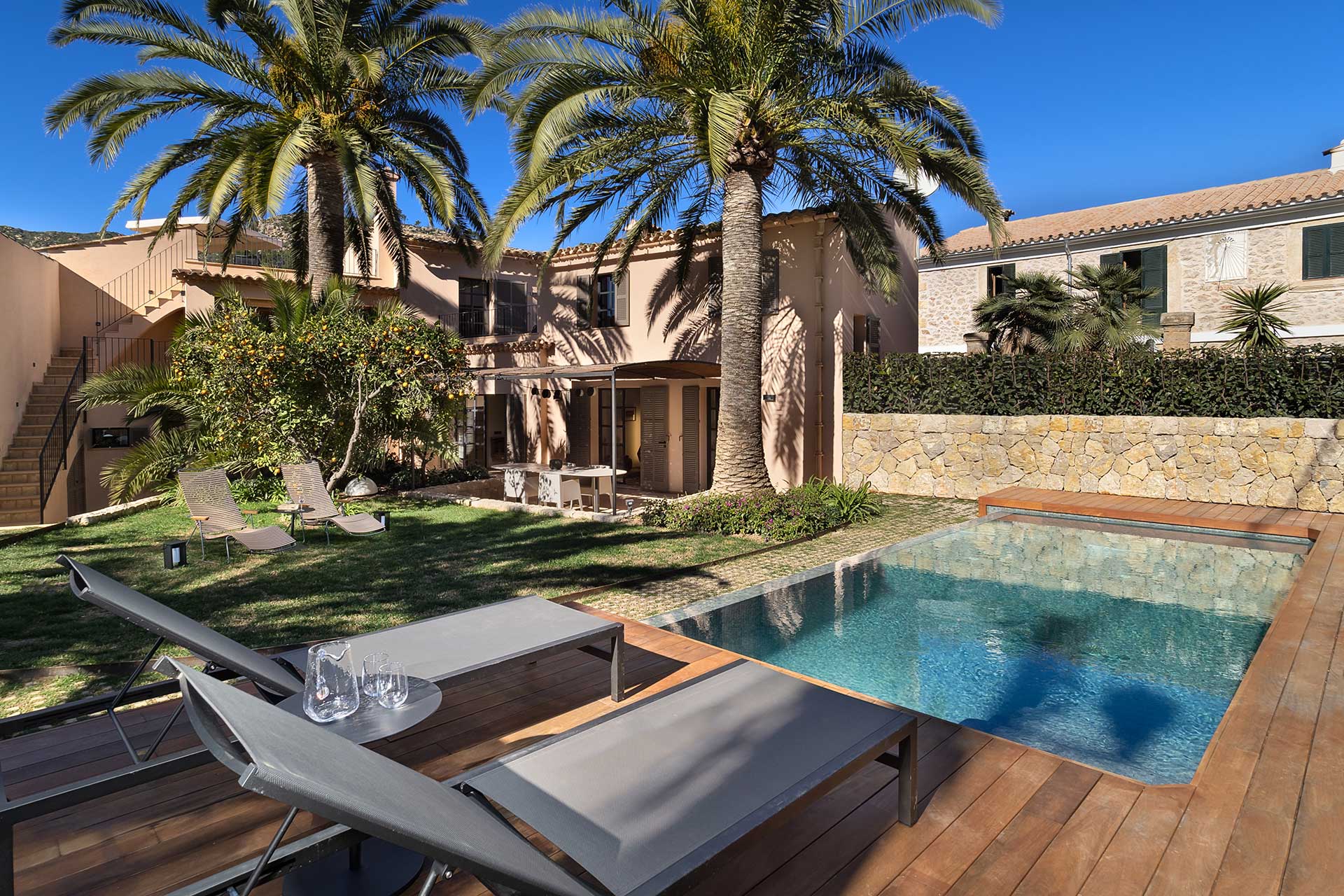 FROM OUTSIDE
Tradicional facade & warm touches
The country house harmoniously integrated into the landscape. The traditional Mallorcan architecture, whose stylistic features are reminiscent of the achievements of the ancient Romans, characterizes the appearance of the house. With the excellent workmanship of high quality materials and much attention to detail, a special place of peace and relaxation has been created here.
FROM INSIDE
Interior Spaces & Experience
This interior design with lots of bright, warm surfaces and different light sources has a friendly, airy and timelessly homely effect. A well-thought-out interior design with creative accents uniquely staged, with high quality craftsmanship and a feel-good atmosphere.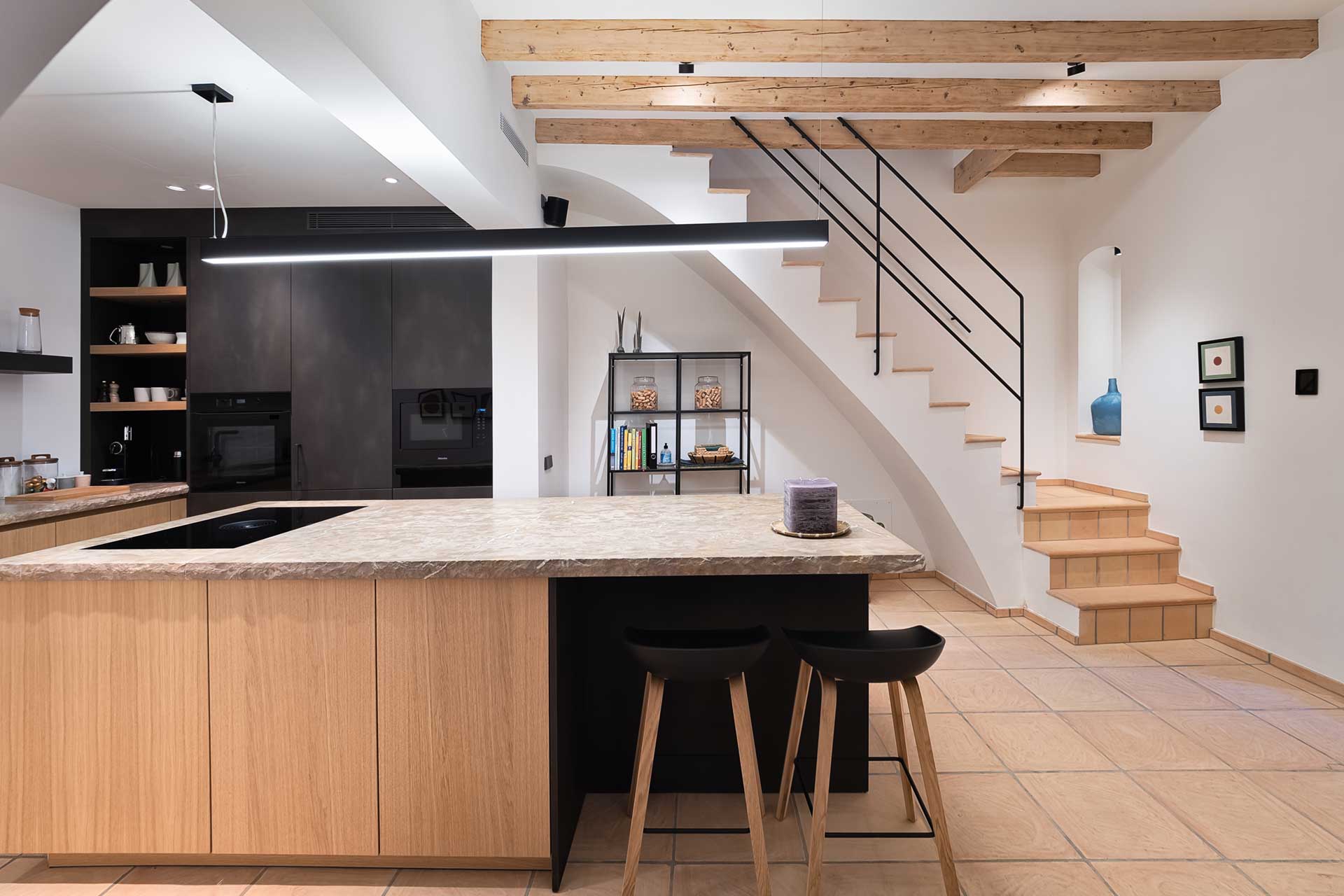 "The transparency, cost control and high-quality implementation of our design simply convinced us. The Edificam team went to work with a high know-how level, experience, creativity and passion. We would do it again."
"A number of challenges arose during the construction period, be it legal restrictions, specifications or building services measures. Edificam immediately brought us the corresponding solution proposals. I am very satisfied with the result."
"Thanks to the serious and competent support of Edifcam our real estate project could be successfully completed. We would like to thank you for the courteous service, the fabulous implementation and the friendly cooperation. "
CONTACT
How can we hel you?