BUILT FOR THE FUTURE
Contemporary & Sophisticated
Mirador Mar

Clean lines, light-coloured walls and ceilings create a minimalist and modern appearance that is softened with Mediterranean materials such as wood and natural stone and creates a natural feeling of well-being.
The calm and clear aesthetics are accentuated even more by the wide window areas with lift and-slide door elements; the exterior and interior areas merge into one another.
This sophisticated villa is located in Costa de la Calma (the coast of calm) between Andratx and the main town of Palma.
The quiet seaside resort is located directly on the beautiful southwest coast and is characterized by luxurious villas and beautiful holiday homes.

THE AREAS
On this plot of 1,197m2, this bright,
contemporary villa of 517m2 was built.

THE ROOMS
In total, the modern luxury villa has 2 bedrooms with dressing rooms and en-suite bathrooms, 2 further bedrooms sharing a bathroom, a luxury kitchen and bright, open-plan living areas, utility room, various terraces, pool, BBQ area, a guest toilet, internal staircase and a lift connecting all floors.

Smart Home
The smart home technology was individually adapted to the requirements of the property. Comfortable, safe and energy efficient. The smart and flexible radio system networks the building services – without any tangled cables.

Step by step to energy efficiency
With this villa Edificam has set the course for the future energy standards in Mallorca. Zero net energy building. Geothermal energy is not. only climate-friendly, but also available at any time.

Safety First
Reliable burglary protection in private households is essential. The latest security solutions were implemented in this villa.

Interior fittings
The bright and open architecture continues in the interior spaces, inside and outside as a holistic unit. A lot of attention to detail, with the best construction quality and perfect design.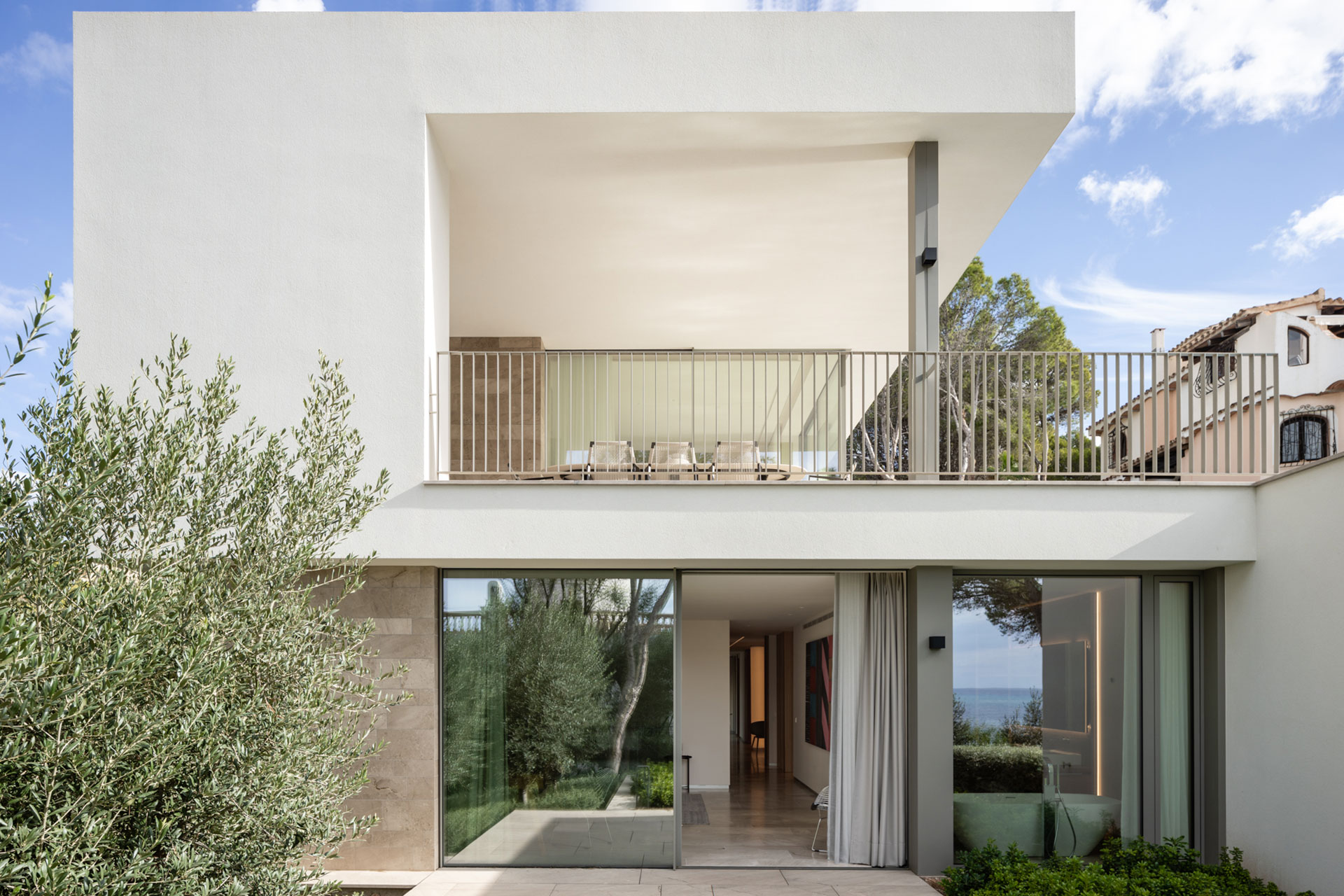 FROM OUTSIDE
Modern Style & Open Design
Extensive glazed areas emphasize the special spatial development of the open floor plan. The open design allows light to flow through all levels and areas of the property, and the generous terraces inspire outdoor living. Here you can enjoy the pleasant summer nights relaxing by the pool.
FROM INSIDE
Interior Spaces & Experience
This interior design with lots of bright, warm surfaces and different light sources has a friendly, airy and timelessly homely feel. A well thought-out interior design, with creative accents, uniquely staged, with high quality craftsmanship and a feel-good atmosphere was designed and executed by our dedicated interior design department at Edificam.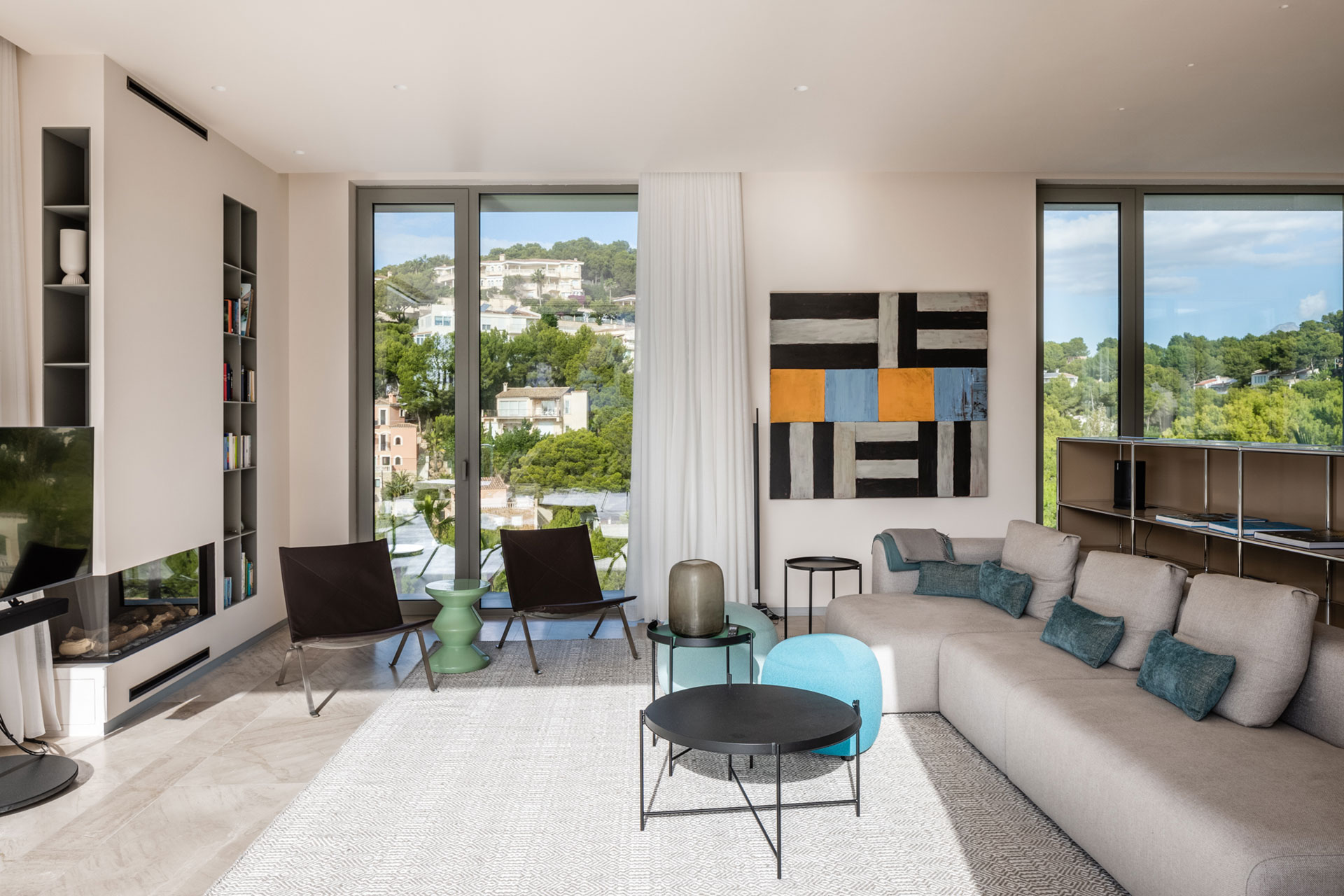 Villa Santa Ponsa V
Umweltverträgliches Bauen
"The transparency, cost control and high-quality implementation of our design simply convinced us. The Edificam team went to work with a high know-how level, experience, creativity and passion. We would do it again."
"A number of challenges arose during the construction period, be it legal restrictions, specifications or building services measures. Edificam immediately brought us the corresponding solution proposals. I am very satisfied with the result."
"Thanks to the serious and competent support of Edifcam our real estate project could be successfully completed. We would like to thank you for the courteous service, the fabulous implementation and the friendly cooperation. "
CONTACT
How can we hel you?